Shredz is a company which sells dietary supplements for men and women in different packaging. For the purpose of this review, I'm only considering their fat burner max. Some supplements meant for men doesn't work for women. However, the funny thing about Shredz is that they are selling almost the same product in different packaging as male & female version!
Shredz Fat Burner Max For Men
It's difficult for a man to get fit the way many men want. Society and media tells men that they should look ripped and powerful, they should have muscles bulging and tight at almost all times.
Unfortunately, society almost never talks about how difficult it is for men to actually manage that. It's difficult enough to actually manage to pack on that kind of muscle. The amount of work it takes, plus the kind of diet that one has to stick to, could drive a person insane. And that's before one takes into account that the tight muscled look of body builders only comes after cutting a lot of fat.
Luckily, Shredz Fat Burner Max has you covered. It has a huge plethora of different ingredients, all designed specifically to help you burn up that fat. Ingredients such as Yohimbe, which is a powerful stimulant that helps to suppress your appetite and kickstart your metabolism.
Now, let's have a look at customers feedback on Amazon.
At the time of writing this article, there are about 167 reviews on Amazon. Out of which 70% are 5 star rating and another 10% 4 star. Positive rating of almost 80% is normally good thing for a diet pill.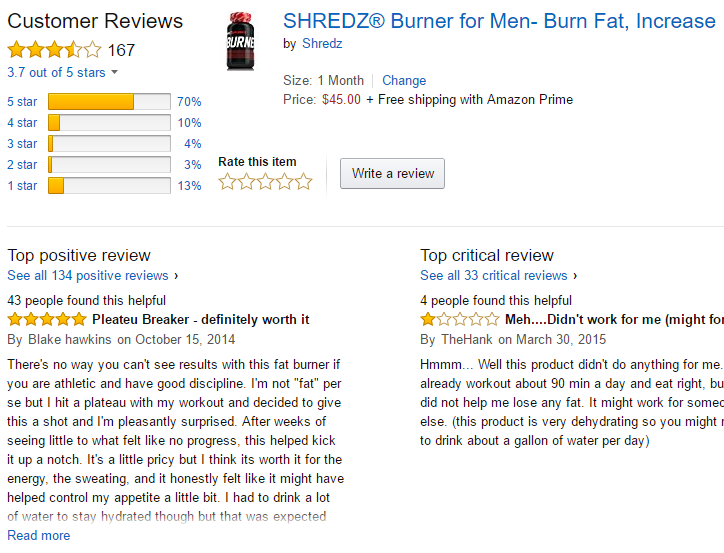 Shredz Fat Burner for Women
Women version contains almost all the ingredients found in the male version. However, couple of thermogenic booster are missing here. That's why it's in pink packaging (female friendly) However, the bad News is that, it hasn't received good amount of consumers feedback. Have a look at the review screenshot taken from Amazon.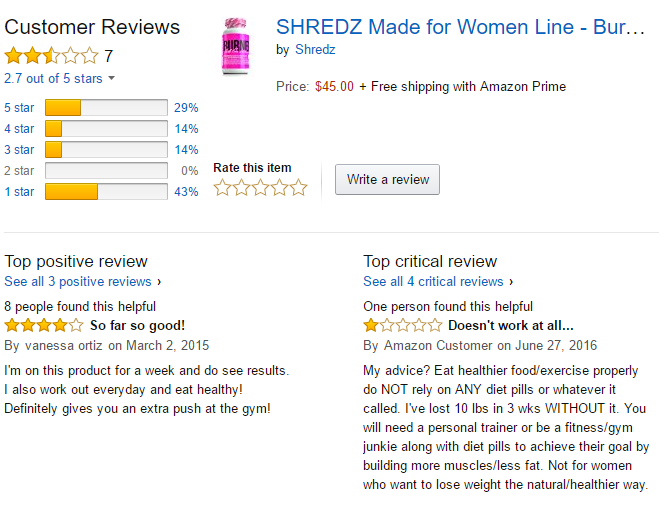 Less than 30% 5 star rating and 43% 1 star rating might appear terrible. However, you should note that it got only 7 feedback so far. Hence it is premature to make any conclusion from those stats alone. From ingredients list (and from feedback) we can conclude that it is not a powerful supplement, which maybe good thing for many women.
Question. Does it actually work?
That's a difficult question to answer in any specific way. The most basic answer is that it can, because it certainly has the ingredients to do what it promises. In addition to the Yohimbe, there's other well known appetite suppressing ingredients as well as well known metabolism enhancers.
However, it's also a supplement. It's not a magical cure all pill. This means that if you want it to work, you're going to have to put some work in yourself. In this case, you'll have to make sure you're eating right while you take it. Eat smaller meals, and make sure those meals are appropriate to the loss of fat. Do you know why we have been recommending PhenQ here? Click here to find the answers!
If you're willing to do that, however, then you can rest assured that Shredz Fat Burner Max can help you achieve the ripped look that you're hoping to get.
Where to buy Shredz supplements?
You can buy from official website. However,  we recommend that you buy it from Amazon since it is available and cheaper.
Summary
Reviewer
Review Date
Reviewed Item
Author Rating